Navy Crippled After Vaccine Mix Up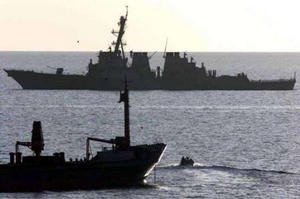 WASHINGTON - Thousands of serious reactions have been reported out of more than 100,000 military vaccinations against smallpox, the Navy's deputy director for military vaccines said Thursday.
Cap. John D. Stern told an Institute of Medicine panel there have been over 7000 cases of penile erections associated with the vaccinations.
"It appears somewhere in the supply chain the small pox vaccinations were switched with a very potent liquid form of the sexual enhancement drug Viagra," Stern reported. "This form of Viagra can potentially stay in the bloodstream for weeks."
The outbreak of thousands of sailors with erections has resulted in many ships temporarily being called to port throughout the Middle East.
"I haven't been able to walk straight for two days now," said Captain Dick Corpus, head of the USS Kitty Hawk battle group. "Add to that the fact that the doorways on board a ship are narrow as it is. We cannot effectively function at sea with this crisis."
Reports of naval discharges due to homosexual sex has skyrocketed over the weekend further hurting the Navy's fighting force. "I am not gay," says Seaman Vinnie Fords who received his discharge papers today. "I mean, when you have had a stiffie for three days you got to get rid of it."
Seaman Fords said that several of his fellow crewmen were having sex with each other simply to help each other get rid of their erections, not because they wanted to willingly.
In Washington, the Pentagon has reported sixteen ships, including the USS Kitty Hawk, will return to port and that they would start a immediate investigation into the matter.
"We are looking into it," General Tommy Franks, head of the US armed forces in the region, stated after being questioned on the matter from the gulf. "But right now the clues are pointing to al Qaeda."
In the meantime, naval doctors have been passing out personal lubricant to help relieve stress for sailors but point out that sex will not make the erections go away.
Ryan Phillips reporting for News2me
---
| RETURN TO TOP STORY |





© Copyright 2003 TL-Inc - All rights reserved