Atlanta Police Search For Clues In Mysterious Car Salesmen Murder Suicide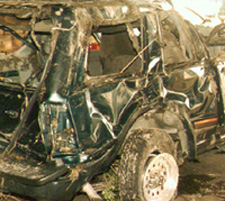 ATLANTA - Local police are looking for leads in a mysterious series of murders and suicide in the parking lot of a closed down K-Mart in Stockbridge Thursday evening in which three salesmen were tortured and murdered before the murderer killed herself.
"We have three deceased males, all local car dealership sales associates," Atlanta P.D. Homicide Investigator Richard Short told reporters from the scene of the horrific crime.
The murders involved the men being run over and otherwise hit by Sport Utility Vehicles from each of their dealerships. "These men were apparently riding with the young woman during a test drive. She apparently led each of the men to this parking lot where she possibly sodomized, tortured, then murdered the men in cold blood before she committed suicide by setting one of the vehicles on fire."
The female, later reveled to be Sarah Winset of Forrest Park, Georgia, was seventeen years of age and a intern at News2Me Media; subsidiary of TL-Incorporated.
"Police interviewed employees yesterday who knew Sarah, including myself," Editor-In-Chief Ryan Phillips of News2Me told reporters. "Its a sad, sad day here in the office. She was a little off in the head and believed to be mentally challenged by some but I never imagined it leading to this." Phillips went on to recount of her stories of car dealers turning her down for credit and also of times she cried in his arms over a secret love affair with a car dealership loan officer who turned out to be gay, married, and unwilling to give her a auto loan. "She was unbalanced sure but never failed to help out at work. She was the best teenage intern we ever lai...err...had. All the men here can agree to that."
According to police Crime Scene Investigators, who used black lights and special effects to solve the murders, the events took place as follows:
Sarah drove to each dealership, went on a test drive with each salesman which led then to K-Mart. At that time Sarah may have had sexual intercourse with the men before gagging and tying them.
After each of the men were in her control she did various sick and twisted things such as running over the men, dragging them behind the vehicles, and tying them to a light pole and repeatedly crushing them with one of the three automobiles.
"I have never seen nothing like this in my life," one of the investigators stated. "After she killed the three men, she purposely flipped the Ford Explorer, or the Exploder as we C.S.I.'s call it, which we all know will burst into flames if flipped. She burned alive."
"This is a sad day indeed," Ryan said grimly from the front steps of the News2Me Media building. "Who could do such a thing to these poor innocent men."
In other news, News2Me's recent unbiased investigative report on SUV safety has been nominated for a Pulitzer Prize as well as a JD Powers & Associates award for excellence in newsworthy journalism.
Staff Writer Eddie Newman reporting for News2me
<!INSERT>
---
| RETURN TO TOP STORY |





© Copyright 2003 TL-Inc - All rights reserved