Outbreak Of Farts Have Far Easterners Holding Their Breath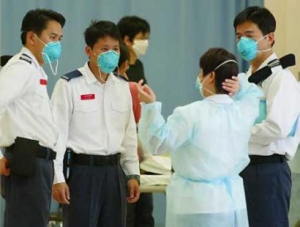 Medical personnel cope with foul odors.

HONG KONG - Global health authorities were on the alert on Sunday for a severe type of rectal gas that has killed at least nine people, infected more than 100 and sparked a warning from the World Health Organization (WHO).

The spread of the fowl odors have alarmed travelers. In Hong Kong's international airport, many people arriving from Taiwan, Singapore and elsewhere were wearing surgical masks.

"There's nothing we can do about it, so we have to take precautions," one visitor told Hong Kong's Cable TV.

Cathay Pacific airline said it had ordered staff not to check in passengers showing symptoms of a possible fart discharge and to refer them for medical assessment.

A spokesman for the Geneva-based WHO said there were reports two people from the same family had died in Canada, taking the death toll to nine worldwide since the first sound of Severe Acute Rectal Smell (SARS), an atypical fart whose cause is not yet known, was detected in China in February.

The pooting infected four other members of the Canadian family, and on Saturday a woman who had been in close contact with them fell sick with the symptoms, Canadian health authorities said on Sunday.

In Geneva, health authorities said two people who had recently traveled in south-east Asia were under observation in hospital with breathing problems and burnt nose hair follicles. They gave no further details.

"This syndrome, SARS, is now a worldwide health threat," WHO director-general Gro Harlem Brundtland said in a statement.

The illness, which starts with typical non lethal fart-like symptoms such as moaning, tightening of the stomach muscle, and leaning to one side when sitting down, can deteriorate rapidly into full blown passing of volatile gas.

Dozens of people in Hong Kong and Vietnam, many of them hospital staff, are also lethally farting and numbers have been rising steadily in Singapore and Taiwan.

U.S. health officials said on Saturday they were investigating reports that two people passing through Atlanta and New York had gas. They gave no other details.

Six more farts were reported in Hong Kong and Singapore on Sunday. WHO said it had also received reports of cases in Indonesia and Thailand, but it gave no details.

In southern China, 305 people contracted severe gas in February and five died while squeezing. WHO and other experts are studying if there are links between these cases and others elsewhere.

Cathay said one of its passengers had respiratory problems during a flight from Hong Kong to Vancouver on March 6. It was checking if any of its staff had farted near the man or possibly smelt or heard him farting.

In a rare emergency travel advisory, WHO said a Singapore doctor who treated some of the first gaseous patients in the island republic had been taken ill and had to be removed from a plane in Frankfurt. He is now in an isolation unit.

A doctor in Frankfurt said the 32-year-old patient's condition had worsened on Sunday and he would stay in isolation as long as there was a chance he may again fart, which could spread the airborne virus to others.

Dr. Hans Brodt said the man's 62-year old mother-in-law was also in isolation as she had asked doctors to pull her finger. His pregnant wife had not shown any signs of the illness, but was in quarantine until it could be confirmed if she simply wasn't bloated from holding in her poots.

The two women had accompanied the doctor from Singapore on a trip to New York for a conference. He had already shown symptoms of gas and had released on at least three separate times on his flight to New York, Brodt said.

In Hong Kong, the government has repeatedly played down fears of the deadly farts spreading outside the medical community.

But the Apple Daily newspaper said two women who had probably caught gas while eating fried rice in Hangzhou, China, were rushed to hospital on return to Hong Kong on Saturday.

The Hong Kong government has said only that there are no signs of any unusual rise in the number of farts. There are about 3,000,000 cases of tooting reported a day in the city.
Wife of gaseous husband passed out from odors.

Two more hospital staff were themselves admitted to hospital on Sunday, bringing to 49 the number of cases in Hong Kong, with 42 of them battling severe farts, up from 37 on Saturday. Many employees evacuated the medical building after complaining of dizziness and gagging, as well as shortness of breath.

Health Minister Yeoh Eng-kiong said two patients who had been seriously ill were recovering and one would be discharged soon if he no longer tooted.

"We have effective treatment, but it's not 100 percent," Yeoh said, adding that some patients had responded well to a combination of pressure valve butt-plugs and Beano.

An American businessman died in Hong Kong on Thursday after leaning to one side to fart, reportedly to impress friends. After he released the gas, he collapsed to the floor dead as his dinner guests attempted to flee the foul odor before themselves passing out. France and Japan have sent medical experts to Hanoi, where 46 hospital staff are ill and one nurse died from smelling one on Saturday.

Centers for Disease Control (CDC) officials in Atlanta are studying the epidemic but early reports speculate that the cause of the illness may come from imported French cheeses.

Staff Writer Ryan Phillips reporting for News2me

<!INSERT>
---
| RETURN TO TOP STORY |





© Copyright 2003 TL-Inc - All rights reserved